By Brian Hurlburt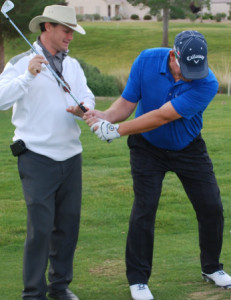 Paul Cox sounds like a former military man when you talk to him. Focused. To the point. Organized. Detailed. Enthusiastic.
However in this case sounds are deceiving because Cox never served. But several family members did and that influence is probably what is heard in Cox's voice as he describes his involvement with several wounded warrior organizations that help soldiers acclimate to everyday life once their tours of duty are completed.
"I never served so this is now my service," says Cox, Head Golf Professional and Instructional Program Director at Aliante Golf Club in North Las Vegas. "We are proud to be associated with these noble causes here at Aliante, and I am personally proud to be able to give back to those and their families who have sacrificed so much, and give to our future of not only the game of golf, but our country."
Cox is involved with several organizations that support soldiers through the game of golf, but focuses a majority of his time and effort on the Wounded Warriors Athletics program.
Wounded Warrior Athletics, a non-profit corporation, was initiated by four active duty Air Force members stationed at Nellis AFB.  The mission of the organization is to provide rehabilitative experiences through golf, softball, scuba diving, and family-inclusive opportunities for wounded veterans from every conflict in an effort to improve the quality of life for these American heroes. Utilizing these experience helps improve the mental and physical condition (balance, coordination, muscle memory and stamina) of each and every Wounded Warrior returning from combat.
"What I most like about the Wounded Warriors Athletics program is that they reach out and try to help soldiers from any conflict, not just those from post 911," says Cox. "Golf is an unbelievable vehicle to help assist our heroes. In golf you have to focus very deeply to be successful, and some of the elements vital in golf are trajectory, wind velocity and a target, and those are similar to what the solders experience during their active duty. Also when they participate in the Wounded Warriors Athletics Golf Tour, the soldiers experience the camaraderie that they may be missing from their active duty days."
The Wounded Warrior Golf Tour was created in 2014 and included six events spanning through Las Vegas, Mesquite and Temecula, Calif. In 2015, the Tour expanded to no fewer than 15 events played at such Southern Nevada golf courses as Royal Links, Canyon Gate, Legacy, and several others. Aliante serves as one of the largest supporters of the entire program.
"The staff at Aliante Golf Club have taken the time to understand these Wounded Warriors suffer from a multitude of injuries, whether visible or not, and ensure that these wounded veterans have a great time hitting range balls, taking lessons or simply playing rounds of golf," writes the founders of the WWA on the official website.  "We continue to be overwhelmed by the constant support, and professionalism, that we receive from Aliante Golf Club and treasure the partnership that we have established."
Some of the golfers who work with Cox also participate in Southern Nevada Golf Association tournaments (SNGA). Rob Jackson recently won the Nevada State Net Amateur tournament after working with Cox and overcoming severe PTSD symptoms. The SNGA is the official arm of the United States Golf Association in Las Vegas and open to all amateur golfers in Southern Nevada. The SNGA also works to support area military causes.
To learn about how to become involved as a volunteer, sponsor or competitor, call Paul Cox at 702.399.4888 or visit WWAthletics. For SNGA membership information, visit SNGA.